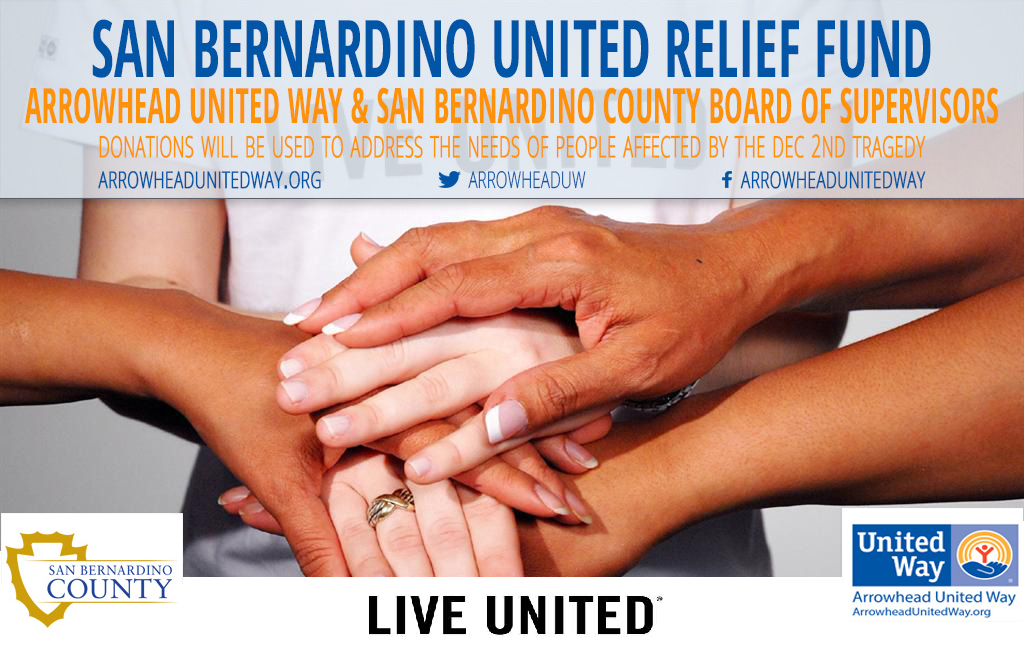 The Albertsons Companies Foundation and The Vons Foundation Raises over $372,000 for Victims of San Bernardino Tragedy
On December 2nd, 2015 the San Bernardino community was hit hard by an unexpected tragic event, a mass shooting.  The mass shooting that took the lives of 14 people and injured 22 others not only affected us because it took place in the community in which we operate and facilitate community programs but the organization that was targeted has been a long standing partner of Arrowhead United Way throughout its 125 year legacy. On a yearly basis County of San Bernardino Employees from various departments work with Arrowhead United Way to better the community and provide resources to those in need. The news of this event strongly impacted people across the nation and in partnership with the Arrowhead United Way, the Albertsons Companies Foundation and the Vons Foundation understood the need to support those affected.
The San Bernardino United (SBUnited) Relief Fund was established just hours after the incident as individuals and companies were wondering what they could do to help.  A formal partnership was established with the San Bernardino County Board of Supervisors which allowed them to direct donation inquiries to the SBUnited Relief Fund as a means of ensuring that donations were collected in one place to make the greatest impact.
The Albertsons Companies Foundation and the Vons Foundation enacted a check stand fundraiser to aid these victims and their families.  In merely 10 days of fundraising, over $372,000 was collected in Albertsons, Vons and Pavilions stores across Southern California.
Funds raised will be used to assist those affected by the December 2nd tragedy which includes (1) families that have experienced loss, (2) those that were shot or injured to assist with medical bills, (3) those in the room.  Arrowhead United Way is not deducting any administration or other fees from donations collected. 100% of what is received will go directly to the San Bernardino United Relief Fund.