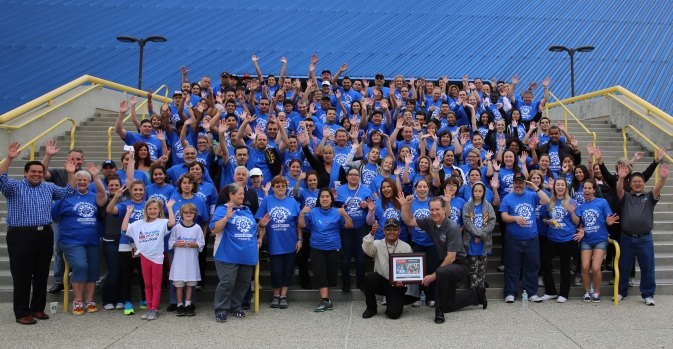 Feeding the Special Olympics Mission
A relationship that started 30 years ago has blossomed into a strong partnership.
Albertsons and The Vons Foundation first worked with Special Olympics Southern California (SOSC) as a liaison to help get food items for SOSC's annual Summer Games. That evolved into a dynamic year-round partnership that includes funding, volunteerism, athlete employment and board representation.
Today, Albertsons and The Vons Foundation is the Title Sponsor and "Official Food Supplier" of Summer Games – the organization's largest annual competition for athletes with intellectual disabilities. Each year, 200 employees volunteer and arrive as early as 3:30 a.m. to ensure that sandwiches are prepared, packed and ready to be served as part of the 10,000 lunches provided to the athletes, coaches and volunteers on the weekend of the Games.
"We are ecstatic to work with such a strong and dedicated partner," said Bill Shumard, SOSC President and CEO. "Albertsons and The Vons Foundation have been dedicated to enriching the lives of our athletes, their families and the greater community by engaging their leadership, employees and customers, and for that we are tremendously grateful."
The contributions go beyond just once a year. Together, the partnership has resulted in more than $3.4 million in financial support and budget relieving donations since 1986. Each year since 2009, Albertsons and The Vons Foundation has included Special Olympics as a beneficiary in its consumer donation program at the checkout counter to help people with disabilities.
More than 19,000 athletes are the ultimate beneficiaries, and the funds help provide resources such as equipment, uniforms, year-round training in a variety of Olympic sports and travel accommodations to competitions. The continuous opportunities to train and compete not only develop the athletes' physical fitness, but the courage to share their gifts and skills in front of friends, family and the Special Olympics community.
The partnership extends beyond the playing field, as well. Albertsons and The Vons Foundation has helped Special Olympics athletes transition into the workplace, including Lindsey Newman of Carlsbad.
"The friends I have made over the years at Vons and the support I get from co-workers is unbelievable," Newman said.
The foundation also assists in providing leadership and guidance to SOSC. Andy Barker, senior vice president of operations for the Albertsons, Vons and Pavilions Southern California Division, sits on the SOSC board of directors.
"We strongly believe in their mission and our employees continuously are dedicated to making a difference in the lives of thousands of individuals with intellectual disabilities," Barker said.